MODEL 87504-267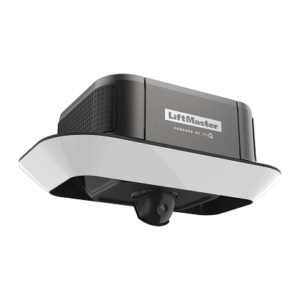 Built in LED Light and camera
Camera allows you to see and take pictures of who is in range of camera and interact with them
This motor virtually eliminates radio blockage and interference

Note this motor doesn't work with some older homelink.

Has a battery backup so if the power goes out the garage will still open.
All motors come with a wall button with light, lock, time, and temperature.
It will be installed correctly. We will not cut corners to reduce the cost. We won't reuse your back hangs, or worse your old safety sensors to wire them.
Safety Sensor or Safety Eyes that will help in keeping you and your kids, and pets from being killed or hurt.
It has a 6 foot extension cord NOT 4 foot like other motors like other Liftmasters, Genie, etc. So if you have a high ceiling it's great or if your outlet is far away!
DON'T BE FOOLED… LIFTMASTER warranties our motor and belt for life.  WELL WHAT ABOUT THE OTHER COMPANIES?
They only offer ONE YEAR. Liftmaster gives you 5 YEARS on all other parts. THAT'S RIGHT FIVE BIG YEARS ON ALL OTHER PARTS AND LIFETIME ON MOTOR AND BELT!!! The Battery and accessories carry a limited One Year warranty.

Measure your door

We dispose of your old motor
Check and  balance  your door, lube your door, tighten the nuts and bolts if it needs more then that is additional charges.
Billy Doors warranties the motor for 3 years parts and labor excluding owners misuse, and 1 year warranty on all batteries and accessories.
Built in Wi-Fi  so you can control from your smartphone. If you have internet.
Easy to work on. They dominate the market. 70% of all motors are Liftmasters
Ultra quiet DC belt drive system
Nonstandard installations are extra.
If you need low headroom brackets on your door that is an additional $135 dollars. CLICK HERE
If the rail needs to be cut, that's an additional $100 dollars.
8 foot rails for 8 foot doors are an additional $40 dollars.
 If you do not have an outlet, you must get one installed by an electrician. We cannot install outlets.
 If your door needs additional work, that will cost additional funds (other then checking and balancing your door, lubing your door, or tightening the nuts and bolts).
If you don't have a strut (Additional Cost) CLICK HERE
Carpentry & concrete work are extra and will be determinate at the time of installation, but there will be an extra charge.
If you need extension brackets add $70 dollars
THEY CUT CORNERS.  (WE DON'T)  YOU GET WHAT YOU PAY FOR !!!!!!
Standard installations                                                                                                                             
Full package
2 remotes and keyless entry pad installed $850 dollars
If you want less
1 remote installed $710 dollars
2 remotes installed  $770 dollars
1 remote +keyless entry pad installed $790 dollars
If you want a gateway installed ADD $120 if you need it because your internet is far away
TAX IS INCLUDED! These are the true prices. I also install all my motors with 13 gauge angle, not that cheap stuff that comes in the box when you buy it from other places!
For more information or questions please call 301-367-9160