How to check your Garage Door Sensor Eyes.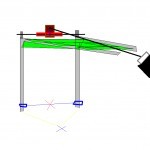 PROBLEM: When you hold the wall button you're by passing the safety sensor and if you let go of the wall button the door goes up and the light is flashing
Make sure safety sensors or eyes are 6 inches or lower
Open the door. Then stand under the door in between the Safety Sensor or eye where THE RED X IS NOT THE BLUE X , then take one step back towards the BLUE X
Then look to the left at the eye then look to the right at that eye now does 1 of the eyes LOOK LIKE ITS LOOKING AT THE GROUND OR THE CEILING OR OUTSIDE OR THE INSIDE OF the garage.
Now go over there and move it. Also clean both of the lens of each eye while your down there.
GO push the wall button and see if it works or see if the both little lights are on.
IF THAT DIDN'T WORK TRY THIS…
Try wiping the bottom of the door with a broom sometime there are spider webs that are on the bottom of door and as the door goes down the spider web or leaf stuck to the spider web will makes the door go up.
CHECK THE WIRE TO SEE IF there is PINCHED OR BROKEN wire.
 THE EYES may be bad DON'T BE LAZY REPLACE BOTH EYE'S EVEN IF THAT LIGHT IS ON.