Wood Doors 40 – 47

Wood garage doors in the 40 series are constructed from high quality, kiln-dried Western woods with polystyrene insulation core, with a double flush design to complement a broad range of architectural home designs. With their wide selection of styles, windows and accents, our flush style wood doors complement both traditional and contemporary exteriors. Quality materials and expert craftsmanship give your home an appealing appearance that's easy to live with for many years.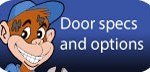 MEASURING & PRICINGModel 40-47 Pricing
You can hit it and it will sometimes bounce back sometimes it won't, but it can be fixed here 
You have to tighten the nuts! 
It will rot under wet or dry conditions. 

The weight will vary with the moisture in the environment.

The fluxuation in weight will make your motor work harder.
2,418 total views, 1 views today